Epoxy is one of the toughest and most durable finishes that you can apply to a garage floor. Not only will it create a protective coating, but it can also transform a boring slab of concrete into a professional-looking floor that's both beautiful and functional. Because garages have become more that just places to park your car, the benefits of epoxy garage floors have made it one of the most popular options on the market today.
Epoxy is used in both residential and commercial applications because it not only offers protection from the elements, but will also make the entire space look like a showroom. Depending on what type of floor you have in your garage, you can choose from a variety of colors and hues. You can also choose from different custom colors, metallics, and color blends that can match the area's look and feel.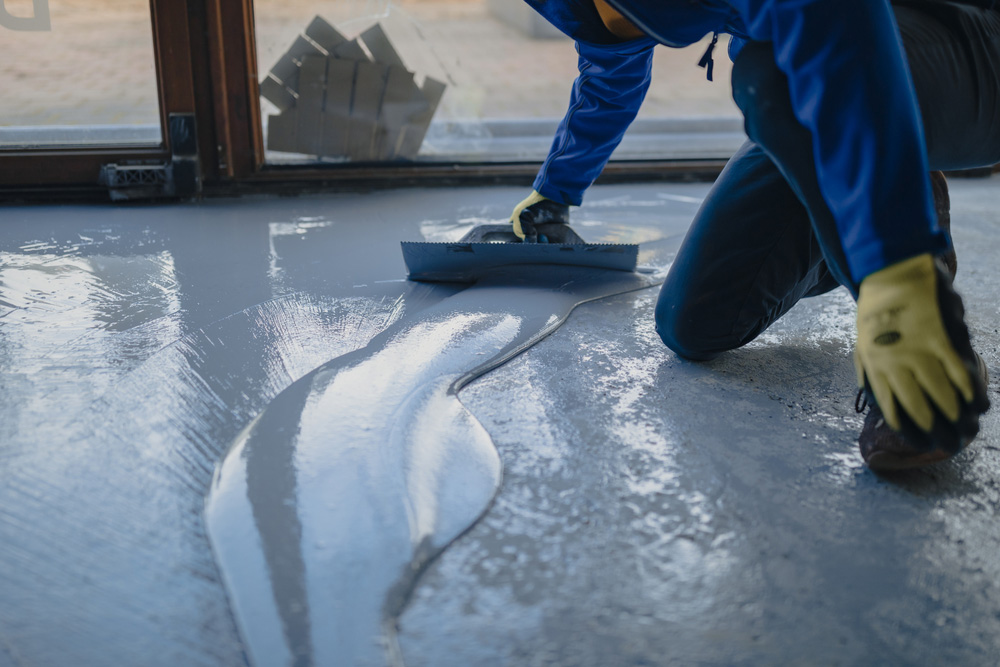 What is Epoxy Flooring?
Epoxy flooring is a thermosetting resin that can be applied to concrete. It's created by mixing one part of a clear or colored epoxide resin with one part of a polyamine hardener. When both of them are mixed together, the hardener will cause a chemical reaction that starts once it makes contact with the concrete. The curing process starts to form polymer structures that are cross-linked together, which is what gives epoxy its strength and durability. At the end of the process, you have a thick and durable coating that will bond to a properly prepared concrete surface.
Aside from the traditional single-layer system that can be found in retail stores, high-end epoxy garage floors have many layers of durable coatings that can not only protect the surface, but can also create an attractive surface that's built for high performance. These layers are chosen based on the floor's individual properties, so it can create an optimal surface for performance and longevity.
How is Epoxy Flooring Installed?
The first step to installing epoxy floors is preparing the concrete, which is one of the most important steps for getting a good coating. It will involve either floor grinding or acid etching of the surface so the right concrete profile can be created. It will also be necessary to repair cracks in the concrete or any other type of damage, especially if you want a smooth finish. Depending on the system being installed, an epoxy primer may be applied first (which binds to the concrete for better adhesion).
What are the Benefits of Epoxy Garage Floors?
Some of the benefits of epoxy flooring for garages include:
Durability and Chemical Resistance — One of the reasons why epoxy is so popular for garage floors is because of its extreme durability. It's chemically resistant to motor oil, gear oil, gasoline, bleach, acid, and many different solvents. Even if vehicle fluids are left on the surface of an epoxy coating for a long period of time, they can still be cleaned without leaving a stain.
Attractive Appearance — The appearance of epoxy garage floors is a result of the style and color of broadcast flakes that have been chosen, which is why the aesthetic options are practically endless. The size of the flakes will also affect how the surface will look. Smaller flakes look more modern because it will mix many different colors together, while larger flakes work better if you want a single-color installation.
Easy Cleaning — Because they completely seal off the concrete, epoxy garage floors are easy to clean. While they are being used in residential applications, epoxy was originally meant to be used in commercial installations (such as manufacturing and brewing). Fire station bays are also one of the most popular applications for epoxy flooring, because the trucks are usually hosed off when they need to be cleaned.
Slip Resistance — The main function of broadcast flakes in an epoxy flooring system is to give the surface more slip resistance. Unlike the epoxy paint at retail stores (which not only has a low level of durability but is also slippery when it gets wet), a higher-end epoxy installation will create a surface with an "orange peel" texture.
Faster Installation Time — While there are some companies that offer one-day installations (which don't perform as well), the average time for epoxy garage floors is two days. You also need to properly prepare the surface, or the installation can fail prematurely. That's why epoxy flooring needs to be professionally installed.
If you're looking for one of the best places for installing epoxy garage floors in Los Angeles, be sure to get in touch with the Fiber Coat Deck Company.