A lot of people get frustrated with the mess in their garages. There may be containers full of holiday decorations, an old workbench with tools scattered everywhere, and enough boxes to make people scream. Once all the cutter is gone and everything is organized, one problem is left. The cement floor in the garage doesn't look that attractive. It may even seem out of place with everything else. In fact, one of the biggest trends for garages is to redo the flooring so the entire space looks like a show room.
There aren't a lot of people who understand the importance of good garage floors. They have to endure a great deal of pressure because of heavy vehicle movements. They can also stain more easily, which can make them look less attractive. Planning for the floor of your garage is as important as planning for the flooring throughout the rest of the property, and not every flooring option is suitable for garages. Resilient, hard, and durable flooring that can hold up against any type of weather and are resistant to stains will be the best choice for garage flooring.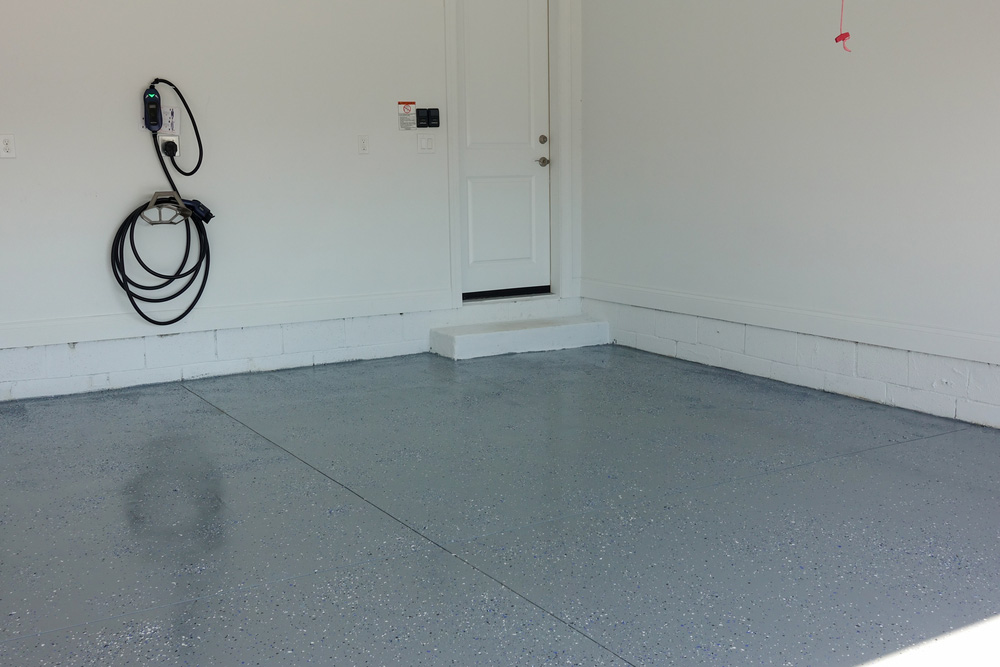 Flooring Options for Garages
There are many options available for garage floors. Some of them include, but may not be limited to:
Polished Concrete Flooring — This is the best option for most garages, because concrete floors are very hard and resilient. They can also withstand a great deal of pressure without any wear and tear. Concrete floors are less expensive, so it's more widely available for people on a low budget. Polished concrete can give you a surface that looks graceful and elegant. They're also stain resistant and are easy to clean, which makes it the best option for garage floors.
Epoxy Flooring — This is a smart and very feasible option for your existing garage floor. It's a tough and long-lasting coating that can be used on any type of floor (including concrete and stone). It can also be used to increase the performance and durability of your garage floor. You can find epoxy flooring in a variety of colors, and it can be easily cleaned. You do, however, want to make sure your sub-floors are resistant to moisture and that it shows no signs of dampness before you install epoxy flooring in your garage.
Rubber Tile Flooring — Because they're available like flexible mats and tiles, this type of garage flooring can be installed very easily (which is why it's a great choice for DIY'ers). Rubber floor tiles are not only flexible, but can also some in a variety of attractive interlocking patterns that add more strength and stability to your floors. It's also low-maintenance and can be easily cleaned. The most affordable and feasible option is rubber tiles, because they can hold up to all kinds of climactic conditions. They can also be installed on all types of sub-floors (especially concrete).
Vinyl Flooring — If your garage doesn't have to endure that much traffic and heavy pressure, an enhanced Urethane coated vinyl tile floor would be a good option. You can also give your garage a unique look by choosing from the variety of color shades that are available on the market. Vinyl floors don't require a great deal of upkeep, and you can clean them with many of the products you use at home.
Stone Flooring — Sandstone, graphite, and flagstone are great choices for garage floors, but they're more expensive. Stone floors can get cold in the winter, so you should think about your budget and local climate before you install them in your garage. But, stone floors have the benefit of being hard and extremely resilient, which can be an advantage for garage floors. You can also find them in a variety of eye-catching designs and colors.
The performance of your garage floor will not only depend on what you choose but will also depend on how much maintenance is required. You want the flooring to be strong and durable enough for cars to drive on, but you may not want something that will require a great deal of maintenance. That's why you should talk to a professional before you make a decision.
Whether you're looking for someone to install epoxy floors in Los Angeles or some other option for garage floors, be sure to reach out to the Fiber Coat Deck Company. We have a team of people with years of combined experience, and we would be happy to speak with you about your specific needs.