A deck or balcony should be a place to enjoy a nice evening with family and friends, so you don't want to have a squeaky or unstable surface. If it's starting to sag in the center, the boards are becoming uneven, or is looking unkempt, it's most likely time to repair it. The cost of deck repair will depend on how much of it is damaged. That's why you'll often see a broad range of prices for this type of work. But, aside from the labor costs, you will also have to consider the balcony's size, materials, and customizations.
Dry Rot Repair & Plywood Replacement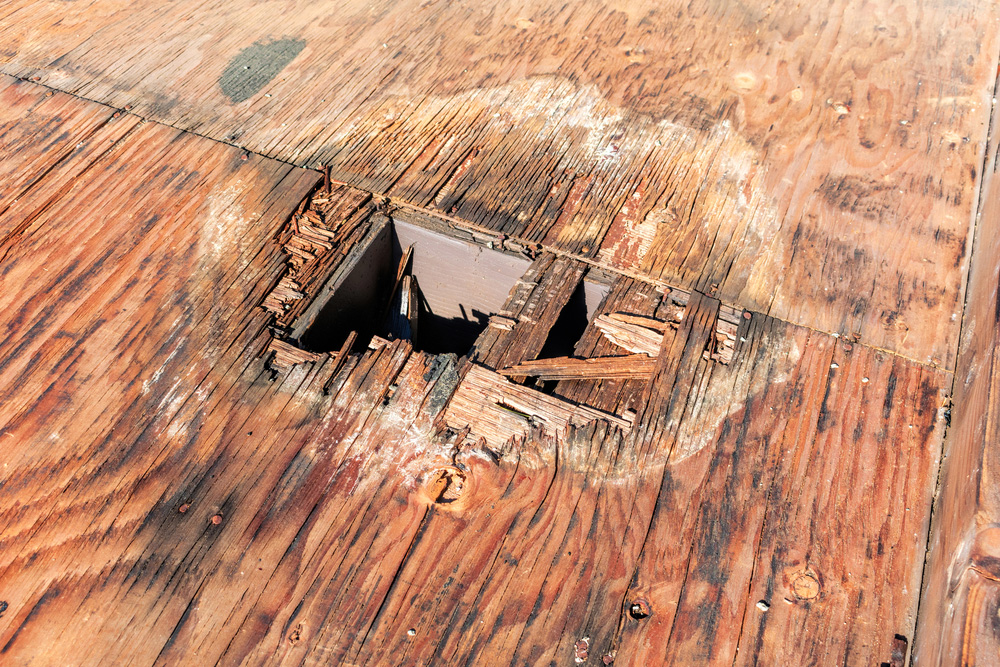 Factors That Determine the Cost of Deck Repair
Decks can come in all types of shapes and sizes, which is why the price range for deck repair is so wide. And in some cases, you may need to have the deck or balcony replaced. Several factors are taken into consideration before determining the cost to repair a deck. Some of them include, but may not be limited to:
Size — Smaller decks and balconies will be cheaper and easier to repair than larger ones, which is why it's the first question a deck or balcony repair professional will ask.
Materials — The materials used on your deck or balcony will also affect the price, because some are more expensive than others. A lot of people prefer to use cedar planks because they're cheaper and reasonably durable, but there are some who prefer more expensive composite or recycled materials that have a better resistance to weather and have a longer lifespan.
Labor and Permit Costs — Labor will make up a good portion of the cost to repair a deck or balcony. It will also depend on market rates and how long it will take to do the work. Deck or balcony repair usually doesn't require a permit, especially if it's minor. But if a major change has to be made, you'll have to speak to the local authorities about permits.
Delivery Fees — If your deck or balcony requires a great deal of repair, you may need to have a lot of materials delivered to the property. So, you may have to pay delivery fees. Some deck repair companies will include this in the total price. But, if the company delivers the materials directly, it may be a separate fee.
Type and Extent of Repair — Some types of deck repair are as simple as sanding or staining, but you may need to think about the cost of replacing the deck boards if they get warped or damaged. The most expensive type of deck or balcony repair will involve repairing the joists or deck foundation.
Time of Year — A lot of people look into deck or balcony repair in late winter and early spring because they look forward to spending more time outdoors, but this is the most expensive time of year for deck repair because a lot of people want to get that space in working order before the good weather kicks in. You might be able to get a cheaper price in late summer through early winter when the demand for deck and balcony repair isn't as high.
Geographic Location — The cost for construction projects can be higher in urban areas than in places that are more rural or suburban. You can also see higher prices in places with a great deal of residential construction, because there's more demand for resources and labor.
Prep Work — A deck repair professional will be able to determine how much prep work is needed to get the project started. For a refinishing job, it will need to be power-washed. Nearby items will need to be removed or covered so they can be protected. If a good portion of the deck has be removed, the contractor will need more room to work as they take them apart and haul them away.
Demolition Costs — If your deck or balcony has been severely damaged, doing some demolition work is sometimes the best way to go. This will involve removing all the old materials and even putting in new joists, because they have outlived their prime.
Site Elevation — You might be thinking about deck repair because of uneven terrain, which may have been caused by some kind of disaster or because one area of the ground started to sink. If the deck was built on uneven terrain, part of the repair process will include elevating the existing joint and decking. But, it can also include leveling the ground and rebuilding parts of it with new joists.
If you're looking for one of the best places for deck repair in Los Angeles, be sure to get in touch with the Fiber Coat Deck Company.