Roof decks can be the envy of any neighborhood, especially when the weather is nice. They can also great additions to townhomes and other town-center-style communities. Adding a roof deck to an existing home can be a little difficult. You might be tempted to open a tall window and walk out onto a flat room. But, if you want to have a functional roof deck, you'll need to spend some time and money.
Most roofs aren't meant to be walked on, much less have furniture placed on them for entertaining. Adding a roof deck is like building an outdoor room, which can be nice if you don't have a backyard. But, before you can do that, you will need to evaluate the condition of the existing roof. Every roof deck project has its own set of logistical challenges. Some of them can include skylights, chimneys, and air conditioners that may need to be moved or built around.
The best roof decks are accessible from the interior living space, especially if it's from a true staircase instead of a ladder or spiral staircase. They will not only have direct access, but will also have a kitchenette of wet bar nearby so it's easier to entertain guests.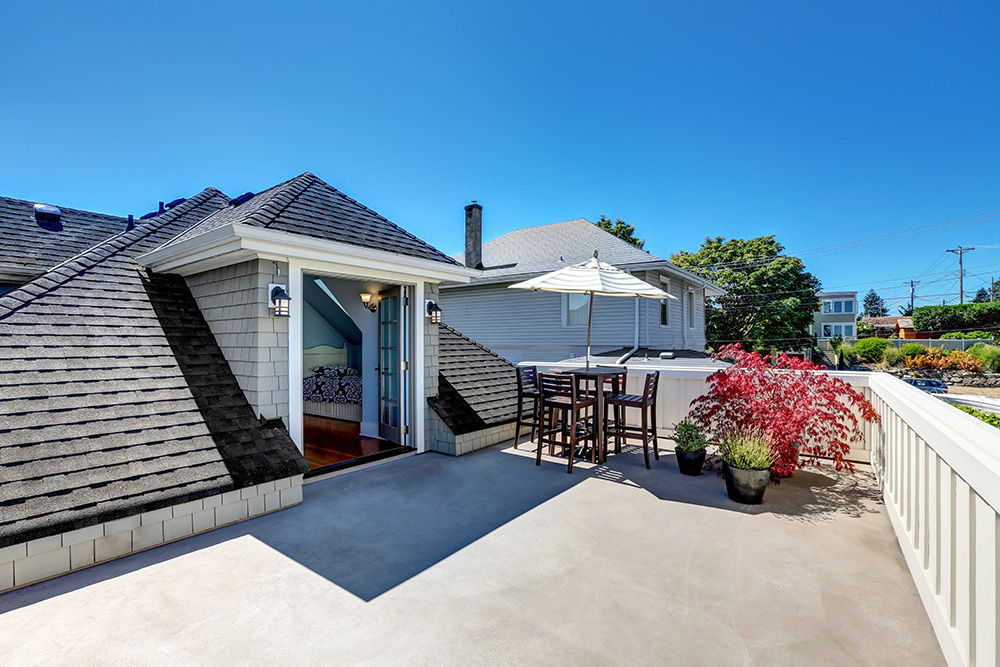 Roof Deck Waterproofing
We can help you protect, maintain, and repair your roof deck. Our waterproofing process can help protect your investment for many years to come by sealing out water and dirt, and preventing your wood or concrete from deteriorating. Maintenance is also easier once the waterproofing layer has been applied, as water and dirt will now be repelled. Generally, a simple rinse will keep your deck looking good. Of course, before we apply the waterproofing, your wood or concrete will need to be in good condition. We can help make basic repairs by replacing rotted wood and any other plywood that needs replacement. If you need a deck waterproofing pro, look no further, we are here to help!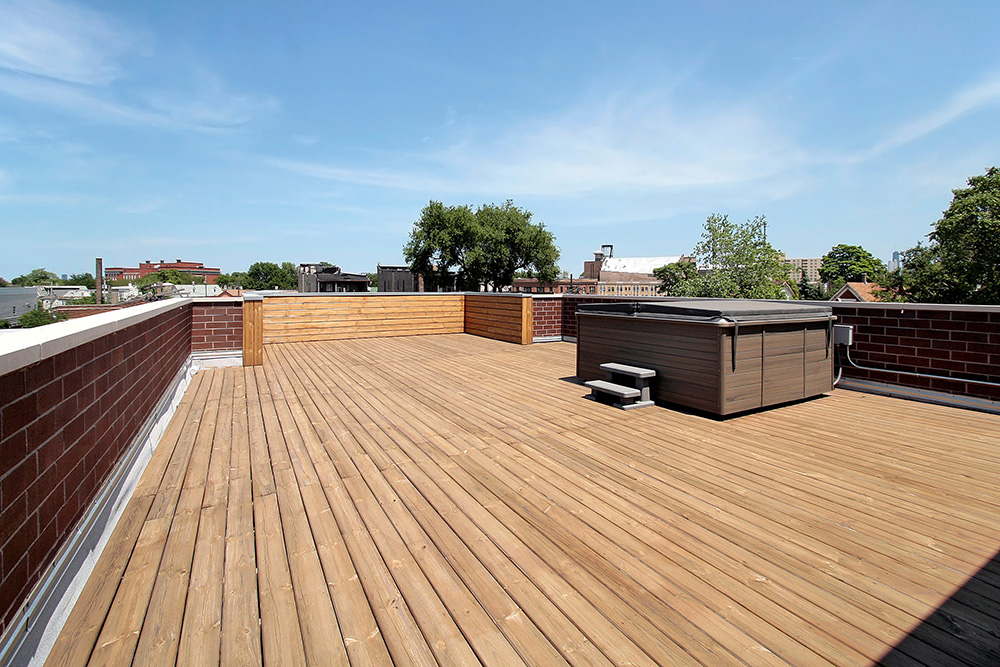 What to Consider Before Building a Roof Deck
Before you decide to build a roof deck, you should take the following into consideration:
Building laws and HOA restrictions — Before you can build a rooftop deck, you need to make sure you can have one in the first place. Check any and all building laws in your area, especially if your property is in a location where HOA rules must be followed. A local contractor will be able to help you to determine if there are any regulations with regard to building roof decks.
Adequate space for construction — Roof decks will usually need more working space than your standard ground-level deck. You will need to figure out how construction crews will be able to access your roof (whether it's through a set of interior stairs leading to the roof or with outdoor scaffolding). Some properties may even need crane access to build a rooftop deck. You will need to have enough space for it to move around trees, existing outbuildings, power lines, or any other obstructions.
Existing or new tree landscaping around the deck — Trees can be an important part of a property's landscaping, especially when it comes to a rooftop deck. They can give you natural shade from the sun. It can also provide an attractive and natural ambiance to your deck space. They can even give you more privacy from neighbors. But, depending on their location, you may either have to cut some of them down or plant new ones.
Decking material used during installation — Choosing the right materials for your flooring is more important for a rooftop deck than for one that's being built at ground level. Roof decks will get more exposure to the elements and for longer periods of time (including the sun and the wind), and not all decking materials are well equipped for roofing installations. That's why you should do some research before you make a decision.
Whether you want to connect it to a ground-level deck — If you already have a ground-level deck, you might want to consider connecting it to a new rooftop deck. A two-story deck design can not only be eye-catching, but can also be a valuable addition to your property. There's also no better time to do it than while the roof deck is being constructed. Building an outdoor staircase that goes from the deck all the way to the roof can make the space more suitable for entertaining, because you won't have to use interior stairs to access it.
More is involved in building a rooftop deck than for a standard ground-level deck. But, in most cases, the process is fairly straightforward if you work with a professional and your roof is already structurally sound. These points are great places to start if you want to determine if building a roof deck is feasible on your property, especially if you want to get the most out of your remodeling project.
If you're looking for one of the best places for roof decks in Los Angeles, be sure get in touch with the Fiber Coat Deck Company. We have a team of experienced professionals, and we would be happy to speak with you about your specific needs.