Epoxy is a great way to update and protect your concrete floors. It can come in a variety of styles and colors, which can be applied in multiple layers to create a seamless finish. Epoxy will adhere to concrete, which makes the surface more resistant to moisture, grease, scuffing, and chemicals. Its durability makes it perfect for garages, where dropped tools and other heavy objects can damage the surface.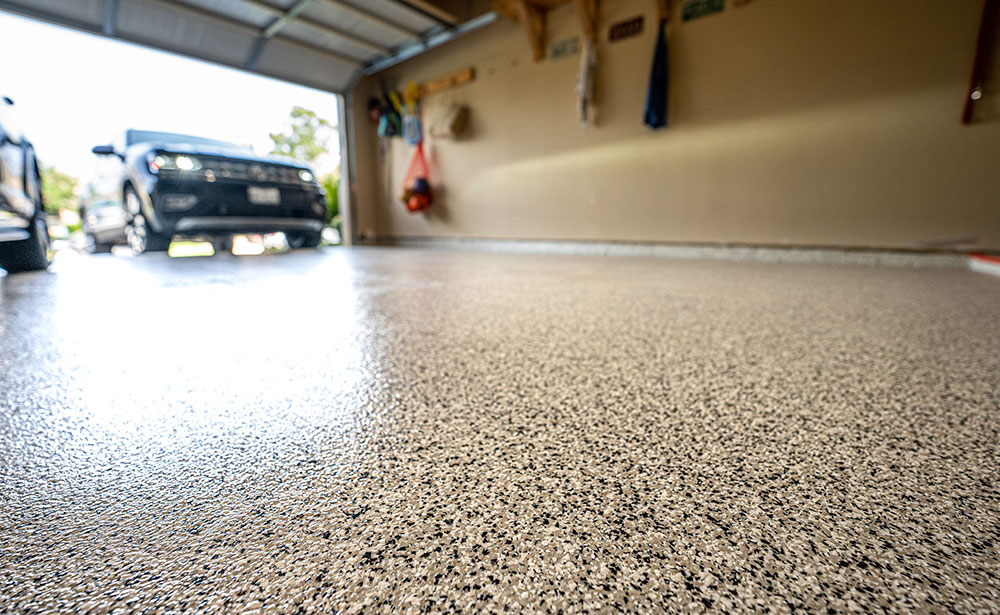 What is Epoxy Flooring?
Epoxy flooring is made of resin-based paints that are mixed with two components before it's applied. Epoxy paint comes in three forms, which include the following:
High Solids — This type of epoxy coating can be either a one- or two-component paint with more solid elements (such as binders, pigments, and additives) than you would get with a standard coat, but it still has good coating and application properties (even though it has a lower percentage of volatile organic compounds).
Water-Based — This type of epoxy flooring can produce a surface covering or film that's resistant to water and chemicals (including acids, solvents, and gasoline). It will also give you the greatest amount of impact, abrasion, and scuff resistance than any other epoxy.
Solvent-Based — This type of epoxy coating works on the same principle as water-based products, except it has some additional substances that need to evaporate. Adding solvents to epoxy flooring has a more modest effect on its strength, but it does make the concrete more resistant to petroleum contamination.
Be sure to speak to a professional about the different types of epoxy flooring for your garage.
Steps for Applying Epoxy Coating to a Concrete Floor
Here are the steps involved for applying epoxy flooring to a concrete surface:
Mix and apply the concrete etch — Concrete etching is the process of roughening the surface with an acid and water solution. It creates pores in the concrete, which will ensure a firm bond between the new coating and its surface. Before you start this process, you want to make sure you have proper eye protection and are wearing chemical-resistant gloves. You also want to make sure that all dirt, grease, and grime have been removed with a detergent solution.
Prepare the room for painting — You want to use a cement-based patching compound to seal all the holes and cracks. Make sure the repair is smooth, and give the area plenty of time to dry. You want to scrape off and remove any peeling paint, and any mildew should be removed with a product that can be safely used on a painted surface. However, you should not apply it to a surface that has been previously finished with a two-component epoxy paint or coating.
Mix and apply the epoxy coating — Before you apply the coating, you want to make sure the surrounding temperature is 50 degrees Fahrenheit or above. And you should wait until there's a dry period with no rain in the forecast. You also don't want to thin the product or apply it to a hot surface area. Make sure the area has enough ventilation so it can dry normally, and you should wait for at least four hours before you apply the second coat (though the drying time may be longer when it's cooler and more humid.
Apply the second coat of epoxy flooring — After you have allowed the first coat to dry, you want to apply the second coat of epoxy flooring in a direction that's perpendicular to the first. This will make sure you create a more uniform finish, but you should never apply more than two coats of epoxy. If you need to use more than one container, you should mix the cans together to make sure you get a consistent color.
After the second coat is dry, you should think about painting the baseboards in you garage with a similar epoxy coating because it will give you the greatest amount of protection.
How to Maintain Your Epoxy Flooring
You can maintain and protect your epoxy flooring by doing the following:
Vacuuming or sweeping up debris.
Immediately wiping away spills with a cloth.
Deep-cleaning any soiled floors by mopping them with a mixture of 1/2-cup of ammonia to every gallon of water.
Lifting rust stains by gently scrubbing them with a kitchen scrubbing pad and some hot water.
You should never use any abrasive cleaners, acids, or chemicals on epoxy flooring. The easiest way to clean these surfaces is to hose them down and dry them with a squeegee attached to a pole.
If you're looking for one of the best places for epoxy flooring in Los Angeles, be sure to get in touch with the Fiber Coat Deck Company.