Epoxy floor coating is one of the most popular flooring solutions for commercial and industrial facilities, but it has also grown in demand for residential properties. There's no such thing as a perfect flooring solution, but the advantages of epoxy resin outweigh the drawbacks in a lot of applications. You can use epoxy floor coating in a variety of settings, which is why it has become such a popular option. But like many other flooring solutions, it's important to understand its pros and cons.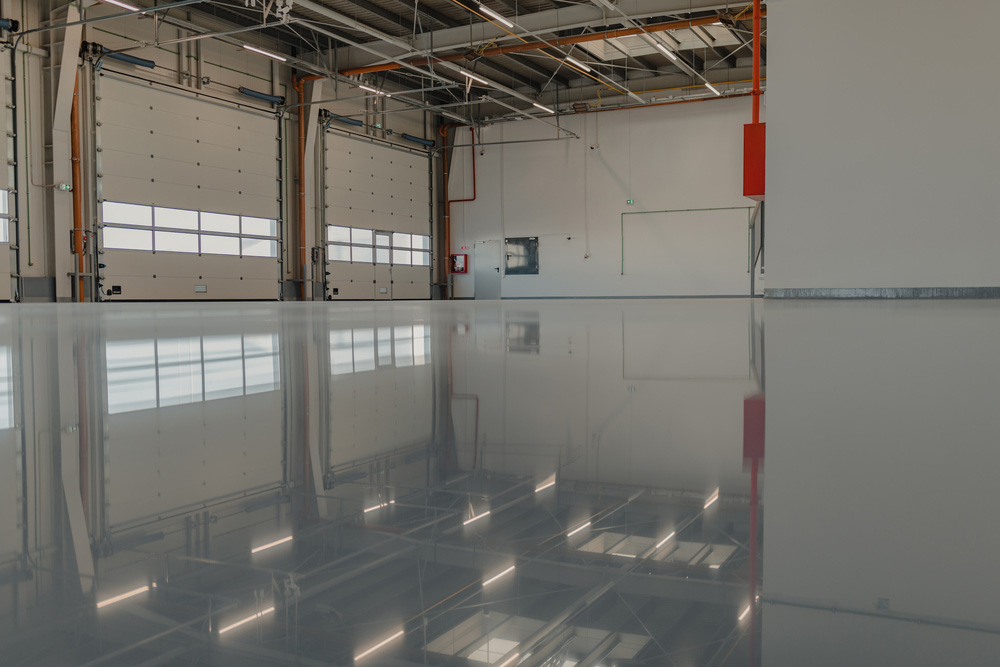 Advantages to Epoxy Flooring
Here are some of the advantages of epoxy floor coating:
Excellent Durability — Epoxy flooring can last for a long time. But as you're researching its average lifespan, you will find a lot of different quotes. The durability of epoxy floor coating will depend on where it has been applied and whether it was properly installed, but it's resistant to all kinds of wear and tear (including peels, cracks, and corrosion). It can even withstand some chemical damage once it has been cured.
Affordability — Compared to other solutions, epoxy flooring will have a lower overall cost. Part of this is because it can be laid over existing concrete. The upfront cost for epoxy will be higher than concrete polishing. But if you need to replace it, the cost will be lower.
Customizable Options — Epoxy flooring gives you the option to create a variety of designs and aesthetic solutions. You have an endless choice of color. The material also has the ability to make intricate patterns and geometric shapes. You can even give it a metallic look.
Damage Resistance — Unlike many other flooring solutions used on residential and commercial spaces, epoxy coating won't be susceptible to the kind of damage that's often a result of normal wear and tear. It won't crack, peel, or erode like laminate, wood, or other flooring systems. Cured epoxy is resistant to moisture and can withstand a great deal of weight.
Weather Resistance — Epoxy can hold up against temperatures from below 0 degrees to above 140 degrees Fahrenheit. It's also resistant to fire damage, which makes it a great choice for both indoor and outdoor applications.
Stain Resistance — Because epoxy creates a tight seal that won't absorb fluids, most things will just sit on the surface. There won't be any stains where gasoline, oil, or chemicals have spilled.
Easy Maintenance — Once it has been applied to the concrete, epoxy doesn't require a great deal of maintenance. Once it dries, it creates a smooth and seamless finish that's resistant to the penetration of dirt, oil, and other spills that can damage a floor's surface. This makes epoxy flooring easy to clean, which you can do with regular sweeping and mopping.
Feel free to speak to a professional for more information about the advantages of epoxy flooring.
Disadvantages of Epoxy Flooring
While epoxy flooring has its advantages, it does have its drawbacks. Some of them can include the following:
Demanding Installation Process — The preparation process for installing epoxy floor coating can take a great deal of time. Not only do you have to prep the surface, but you also have to remove any underlying substances (such as oil or grease). The installation process must also follow the required rules, and one of them may involve checking the humidity levels. If the air has too much moisture, the end result will look damaged (which will cause the floor to age more quickly).
Slippery Material — Because it has a non-porous and seamless structure, epoxy flooring can have a slippery surface. This is especially true if it gets wet or oily. You may, however, be able to make it less slippery or not slippery at all for an additional cost.
Long Curing Time — Once you have installed epoxy flooring, you will have to wait a few days for it to completely cure. Some installations may require up to a week for complete drying and curing, which can be an inconvenience for some property owners.
Temporary Flooring Solution — While epoxy is durable and resistant, you will have to replace it eventually. Unlike other flooring options, normal wear and tear can take its toll on epoxy floors. If you want to keep it looking good, you will have to put down a new coat of epoxy (especially if heavy items get dropped onto the floor's surface).
Smell — Wet epoxy has strong fumes, especially if you're using a darker shade (which has more hardeners).
Moisture — Because it doesn't breathe after it cures, any moisture that's trapped below the surface of an epoxy floor coating can become problematic once it evaporates. It can even lead to the eventual need for repair or refinishing as bubbling or buckling in the flooring material can occur.
If you're looking for one of the best places for epoxy flooring in Los Angeles, be sure to get in touch with the Fiber Coat Deck Company.