Pools can come in many different shapes and sizes, but the one thing they all have in common is a pool deck (which has a dual purpose). Not only does it give swimmers a way to access the pool, but it's also there to keep dirt from making its way inside the pool. Whether it's made out of wood, concrete, or tile, the time may come when it needs to be repaired or replaced. It's not always easy to spot the warning signs of a bad pool deck.
When Your Pool Deck Needs Minor Repairs
A concrete pool deck may experience a series of issues that can be fixed with some minor repairs. Recoloring, re-polishing, or resealing concrete surfaces are common fixes that can be applied. Here are some of the signs that your pool deck is in need of minor repair:
Stubborn stains on the surface — Pool decks usually have sealers, which are there for both protective and aesthetic purposes. Dirt and mud stains won't damage the coating very easily, but they can cause it to fade over time. Even if the average pool deck sealer can last for several years, it's a good idea to apply a new layer as soon as you see lingering stains.
Loss of color — Color fading on the top of the pool deck is a sign that it needs to be resealed. If you have water-based stains or dyes that give the surface its color, you will need to apply a layer of top coating to seal them in. Stains and dyes will fade if they're exposed to too much sunlight, and color fading is a sign that the topcoat is starting to dissolve away from the surface.
A slippery surface — If the surface of your pool deck feels slimy or limey when your toes touch the surface, it's a clear sign that it needs a new coating. This is what gives the deck surface its water resistance, and it can fade or thin out over time. This will allow the top layer to absorb water, so you want to apply a new layer of coating on the deck as soon as you notice this problem.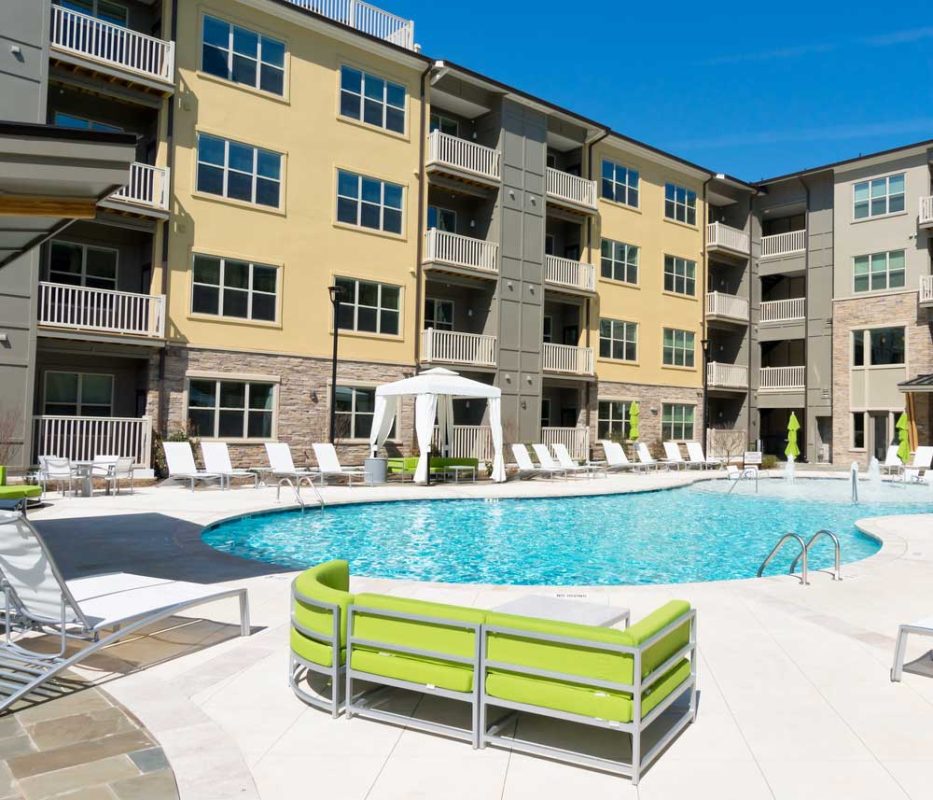 When Your Pool Deck is in Need of Major Repair
While some issues can be fixed with minor pool deck repair, other problems are more serious and will require the help of a professional. The sooner you find them, the better. Here are some of the signs that your pool deck is need of major repair:
Discoloration — This type of discoloration is worse than seeing mud or soil stains that are smudging up the surface. It shows up through the presence of a a translucent, dark stain that appears to penetrate deep into the concrete layer. It's caused by an unseen crack located somewhere underneath the concrete, which might have happened because the coating is gone completely.
A moldy surface — Mold can grow on your pool deck whether you live in a humid area or not. This is often caused by water that splashes outside the pool basin, and the deck surrounding it usually doesn't have enough time to dry. If the mold doesn't seem to go away after you have cleaned and polished the surface, it's a sign that you have a more serious problem.
An uneven pool deck — If you step onto a spot on your pool deck where the concrete seemed to move, it's a sign of an uneven surface. It's caused by a major crack that's causing the concrete to crumble. If you see this problem, you need to contact a professional to get it repaired.
Water can leak into the ground, which can cause the soil under the slab to come loose or soften. This can eventually cause the concrete to crack. One of the ways that this can be repaired is through slab jacking, where the sinking slab is lifted back up so it's level with the rest of the pool deck. You also need to be aware that not all types of pool deck damage are caused by human activity. Sometimes, the moving ground is caused by natural occurrences within the soil.
If you have a pool deck in Los Angeles that needs to be repaired, be sure to get in touch with the Fiber Coat Deck Company. We have a team of experienced professionals who would be happy to speak with you about your specific needs.