An outside deck is a valuable part of your property whether it is for enjoyment or utility. These areas generally see significant amounts of traffic and are also subject to the elements. They are susceptible to damage when the weather starts to get bad (especially when it's pouring down rain). Water doesn't mix well with most materials, which is why deck waterproofing is an essential part of protecting your investment.
The materials used for the construction of outdoor areas (such as decks and patios) are usually pretty durable, but many of them can absorb a great deal of water. Once it gets into the material, the deck surface can lose its durability, adherence, and appeal. Damaged surfaces are more likely to have imperfections and flaws (such as cracks, chips, and scratches). If you apply a waterproof coating to a deck, it will not only have more protection from the elements, but will also add color, texture, and aesthetic appeal to the surface.
Here are some of the benefits of having a deck waterproofing system.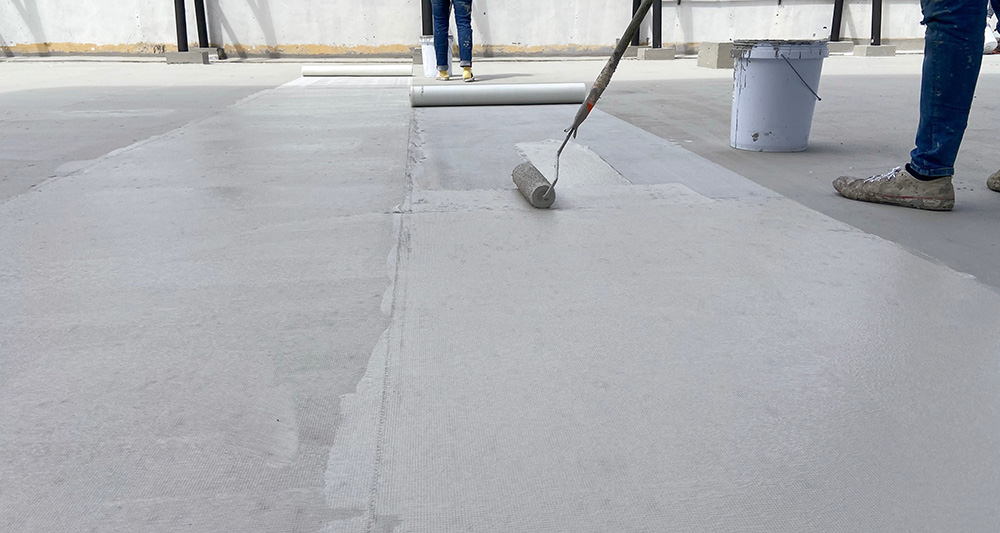 #1: It Can Protect the Interior of Your Property from Water Damage
Horizontal surfaces (such as decks) can be hard to waterproof, but it's not impossible if you use the right materials and have the right expertise. Not waterproofing your deck surface would make your the interior of your property more susceptible to damage. This can include your walls, floors, foundation, and insulation. The idea is to stop a seepage from forming, which can be achieved with the right deck waterproofing and a strong foundation.
#2: It Can Protect Your Health
If moisture gets into your ceilings and starts to get deeper inside the walls, mold and mildew will start to grow. It will then create spores, which get released into the air and into your lungs. This can lead to serious health problems. It's always better to waterproof your property, so you can avoid these health problems.
#3: It Can Increase Your Property's Value
Deck waterproofing is one improvement project that must be done, especially if you want to increase the value of your property. If you don't do it, you could develop some serious problems related to moisture. This will decrease its value, because it will be a major red flag for potential buyers. Think of having a deck waterproofing system as a preventative measure that will keep the construction project from decreasing in value. It's also an investment that, like maintenance and repairs, can keep the property functioning and in good condition.
#4: It Can Eliminate the Need for Restoration
Preventing a problem is always better than fixing one that already exists. While deck waterproofing can be a costly investment, it can give your property more long-term stability. It's better to waterproof the entire property instead spending money later on to fix leaking ceilings, moist floors, and damp walls.
#5: It Can Make Your Property Safer
If your property gets water damage because of a deck that has been structurally compromised, it can be a safety risk for you and everyone else (including your tenants, customers, or employees). You can protect your home or commercial property from this kind of damage by making sure your deck stays secure. You don't want anyone falling off the deck because of a rotted railing, and you certainly don't want them to go through it because the joists got damaged from water exposure.
#6: It Can Reduce the Need for Maintenance
Even if your deck hasn't gone through a hurricane or some other weather event, it will still need regular maintenance (especially if it's getting older). A deck that doesn't have a deck waterproofing system will need all types of sanding and repair services performed to keep it in good shape. You may even have to pay for expensive repairs when you have to replace the support structures or any other part of your deck that has gotten damaged from water exposure. Deck waterproofing can save you money on repairs, which will make a big difference as the years go by.
#7: It Can Keep Your Deck Looking Great
While it may not be as important as some of the other benefits of deck waterproofing, the fact that it can keep it looking great is worth mentioning. Think about how much value you would add to your property if you breathed new life into an older deck. You would be able to assure potential renters or buyers that it's safe enough to be used and enjoyed. It will also make you feel good to see that your property's deck looks great year after year.
If you're looking for one of the best deck waterproofing companies in Los Angeles, be sure to reach out to the Fiber Coat Deck Company.