A good flooring system is the foundation for any commercial business. Whether it's an office, a factory, or a warehouse, the floor will experience a great deal of wear and tear. Epoxy floor coating is a great choice for commercial settings, especially industrial spaces or areas that experience a great deal of traffic. Epoxy flooring can turn even the most beaten-up floor into something that will enhance the look of your business without costing a great deal of money. It's a fast upgrade for standard concrete floors, and it's a relatively simple fix for damaged or old floors (especially when you compare it to the cost of pouring a new slab or resurfacing a substrate).
Here are some of the advantages of epoxy floor coating for commercial spaces.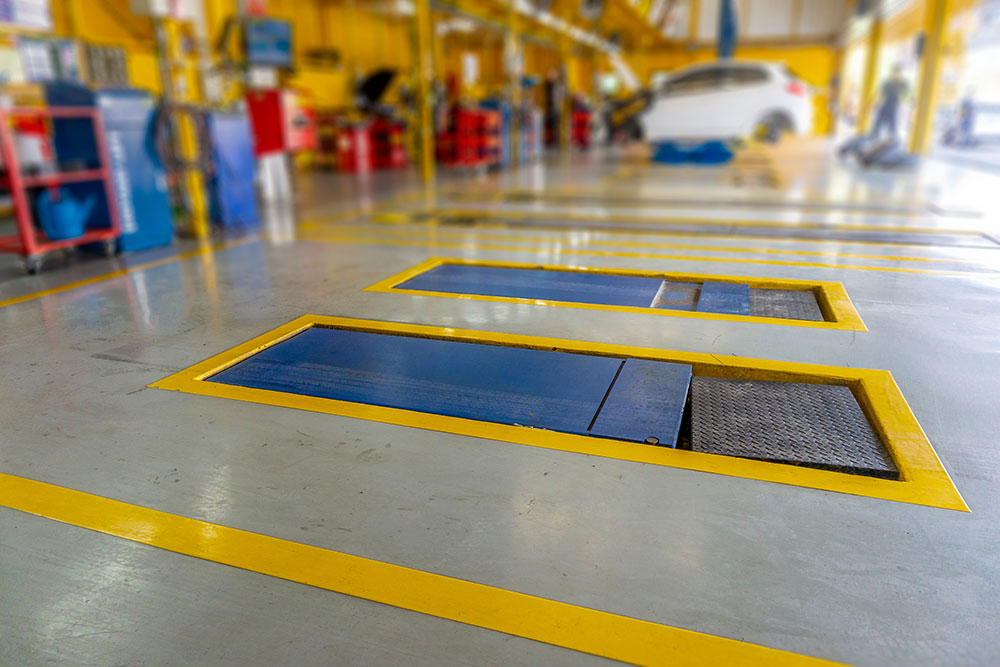 #1: It Can Save Your Business Money
The goal of any business owner is to run a successful company. While the definition of success can be different for each individual, it all comes down to the bottom line because a company needs to earn a profit if it wants to succeed. That's why business owners must look at their options carefully before they make a financial decision. This includes choosing the best and most cost-effective flooring option for their building.
The flooring system must not only be effective in your space but must also last a long time. That's why using a high-quality, durable material is important. It must be able to withstand the pressure of your business, which is why many business owners see the benefits of epoxy floor coating. Compared to other flooring solutions, the cost of epoxy is hard to match. And the reason for its affordability is because it's installed on top of your existing floor. Whether your commercial space uses wood or concrete, the cost of installing epoxy is much lower than all the others.
#2: It Offers the Look of Quality
Commercial and industrial spaces need to have sustainable flooring, but it also needs to enhance the building's overall aesthetics. Your customers need to see what a thriving business looks like, and epoxy flooring will accomplish that. It can transform dull, drab concrete into a floor that looks intricate and stunning. Compared to your typical warehouse floor, an epoxy floor coating will look bright and inviting. Its professional appearance will draw people in and will showcase your company's excellence.
#3: It Comes in a Variety of Colors and Styles
Applying epoxy to your concrete floor can give your commercial space a fresh new look, and that's before any colors or fillers are added to change how it looks. Epoxy is often used by companies for branding as well as safety, which is made possible by the variety of colors and styles that can add a decorative element to a concrete floor.
The smooth, flawless shine of epoxy floor coating will make your workspace look more elegant, and work areas can be customized as well. Texture will often get added to give the floor an extra later of safety, but it can also add an extra design element. Epoxy flooring is a cost-effective way to update dull concrete and add more atmosphere to your workspace.
#4: It Offers Excellent Durability
Epoxy floor coating is strong, so durability is one of its benefits. In fact, it lasts much longer than almost every other commercial flooring solution on the market. The only thing that last longer than epoxy is the concrete itself, which still needs to be sealed and maintained to keep it sustainable. Because epoxy flooring requires a concrete substrate to be built below it, it has an incredible amount of strength. It can handle the pressures of heavy machinery, heavy traffic, drops, spills, and even leaks.
If it has been properly installed, epoxy floor coating will outlast many other types of concrete flooring. Making sure you have a correct installation will make it last longer and will minimize your chance for peels, flakes, and cracks. If it has been properly installed, epoxy flooring can last up to several decades. Both that and its durability make epoxy floor coating a popular choice for commercial and industrial businesses.
If you own a commercial or industrial building and are looking for one of the best places to install and maintain epoxy flooring in Los Angeles, be sure to reach out to the Fiber Coat Deck Company. We have a team of people who would be happy to speak with you about your specific needs!